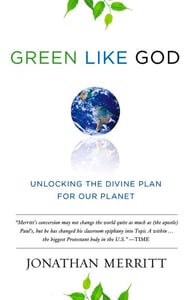 $

8.99 - On Sale
Order this autographed copy now with $1 shipping.
Called "mandatory reading for churchgoers" by Publisher's Weekly, Jonathan Merritt's Green Lock God seeks to uncover the divine plan for planet earth.
This item will be shipped upon receipt of payment. No refunds on submitted orders.
Retail price: 16.99
YOUR PRICE: 8.45
Reduced rates are available for bulk orders (10 or more units). For price quote, contact jonathan@jonathanmerritt.com.