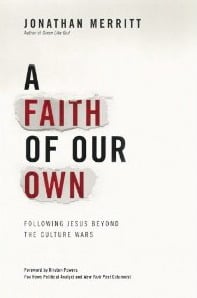 $

13.99 - On Sale
Order NOW!
In A Faith of Our Own, author Jonathan Merritt illuminates the spiritual ethos of this new generation of believers who engage the world with Christ-centered faith but an un-polarized political perspective. (May 2012)
This item will be shipped upon receipt of payment. No refunds on submitted orders.
RETAIL PRICE: 19.99
YOUR PRICE: 13.99
Reduced rates are available for bulk orders (10 or more units). For price quote, contact jonathan@jonathanmerritt.com.